Introducing the Stylish Supporter Series!
August 23, 2012
Hey Kitechild fans!
We are launching a new series for our back to school bracelet campaign! The Stylish Supporter Series aims to highlight those fashion forward, big hearted individuals who have purchased one of our Kitechild bracelets, which has in turn provided greater educational opportunity for an orphaned child. Whether funds are used to buy school uniforms, textbooks, or enrollment fees, each purchase assures that a child will have the essential tools needed to succeed academically.
This week's Stylish Supporter is Denise Echeverria, from Los Angeles, CA!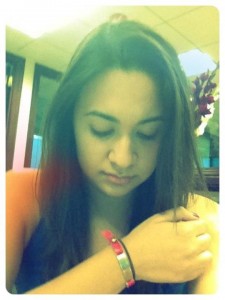 We love Ms. Echeverria's simple style with the bright red bracelet, supporting orphans in Latin America.
Many thanks to our Stylish Supporter of the week! Would you like to be featured on the blog? Send us a snapshot of you rocking your bracelet!
Remember, you can purchase bracelets here: http://www.kitechild.org/shop/
x y
About Kitechild
Kitechild, is a not-for-profit organization, was launched December of 2010 by two UCLA college graduates. The founders envisioned using the power of the internet in the age of social media, to provide a unified solution to many of the challenges orphanages face in providing resources and opportunities to orphans in the developing world.
View all posts by Kitechild →
This entry was posted in
Donate!
,
Leather Bands for Learning
and tagged
bracelets
,
education
,
fashion
,
jewelry
,
support
. Bookmark the
permalink
.
← Volontourism: Huffington Post guest blog written by Leila Debruyne from Flying Kites
Stylish Supporter Series →
Comments are closed.