Vocational Tailoring Training for Low-income Mothers at Jukumu Letu
Kenya, Nairobi County
Active Projects, Financial
$3503.5 raised
of $7007 goal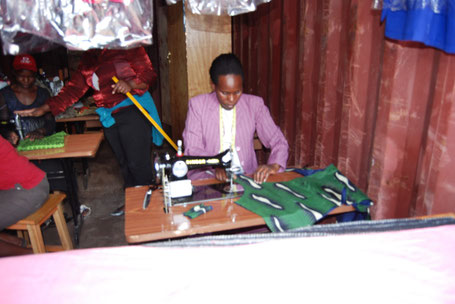 Targeting: Financial
Project Objectives:
Tailoring training and  production  project
Project Summary:
Jukumu center supports early childhood learning of children from poor families at the same time they build the capacity of the families and help them to achieve sustainable income and move out of extreme poverty.
They give skill training ,financial education and access to saving as well as personal mentorship.
This project is supposed to achieve this goal of economic empowerment of families (parents)of children attending Jukumu center.
The aim is to empower parents with the skills to be able to setup an income generating Tailoring shops. In so doing, we will be empowering the families economically. This will increase their capacities thus enabling them to better nurture their own children, this reduces the number of children transiting into the streets and children's Centers due to extreme poverty.
Number of Children Impacted:
.
Partner Background:
Jukumu Letu is a vibrant and life-giving community based organization, working with young orphans and vulnerable children (OVC), women and families. They are situated in Ngong, near Nairobi.
Their main aim of working with family members, is to improve the psycho-social, physical and cognitive development of young OVCs from birth to completion of primary school, through a holistic range of practical and accessible interventions.
JUKUMU LETU BEGININGS
Starting in 2007 as a day care centre offering a safe and caring atmosphere, Jukumu Letu, Kiswahili for our responsibility, focused on young orphans and vulnerable children (OVC). It was discovered that many families with children below school going age, living in the Mathare slum of Ngong town were in desperate need of support; empowering these careers and their children was vital.
Extreme levels of poverty, day to day struggles of menial employment and a lack of adequate or affordable child care facilities were obvious reasons to begin a day care centre. Jukumu Letu immediately enabled older siblings or care-givers attend school or work. For very similar reasons, in 2009, a second centre was started in Bunyore, Vihiga County, Musitinyi Village, Western Kenya.
As the children grew to school going age it became necessary for Jukumu Letu to continue to kindergarten and later primary school level which is currently in its fifth year in 2019.
Jukumu Letu's main focus has grown to include: improving psychosocial, physical, cognitive and cognitive development of young OVCs and working with and empowering family members.
Check out these related active projects:
Small Farm Drip Irrigation at Tumaini Itugururu Children Center

Targeting: Food Security, Nutrition,  Community Project Objectives: Small farm drip irrigation from AMIRAN (2 kits) Project Summary: The farm will help the Center to grow their own vegetables for consumption by the children and in so doing save them from the recurring food costs and improve the nutrition and diet of the children thus ensuring [...]

Kenya, Tharaka-Nithi County

Solar Panel System at Pendekezo Letu Center

Targeting: Quality Nutrition, Education Project Objectives: Expansion of the solar panel system for the farm fence Project Summary: Solar expansion for fencing the farm will serve to prevent animals from destroying crops. This will minimize the cost incurred through loss of crops as well as the cost of hiring any security personnel to physically monitor [...]

Kenya, Kiambu County, Ngoriba

Water Harvesting at Pendekezo Letu Center

Targeting: Quality Nutrition, Education Project Objectives: 5 Water harvesting Tanks 10,000 L and gutters Project Summary: Water harvest for children and the dairy cows to get clean water since the current water source is polluted. This will save the Center the costs of purchasing clean water. The saved amount could be channeled to other important [...]

Kenya, Kiambu County, Ngoriba